*2005-2019*
Héros sans visage ni nation, Frank Shinobi n'a d'identité que celle que l'on lui prête. Membre d'une organisation secrète infiltrée à tous les niveaux de la société, ce digne descendant des plus glorieux samouraïs aime défier les lois mathématiques. Disciple de grands maîtres tels que At the Drive-in, Foals, 31 Knots et The Redneck Manifesto, Frank Shinobi poursuit son apprentissage dans les contrées reculées de son inconscient. A moins que cela ne soit dans le vôtre ? Restez sur vos gardes, il pourrait peut-être vous surprendre!
Surprising and innovator band, playing a kind of math-rock, think about a perfect mix between At the Drive-in, Foals, 31 Knots and The Redneck Manifesto!!!

#indie, math-rock
https://frankshinobi.bandcamp.com/
https://www.facebook.com/frankshhinobi
De 2005 à nos jours, Frank Shinobi a joué plus d'une centaine de concerts dont le Dour Festival, les Nuits Botanique, AB/Bota, ProPulse, Micro Festival, Rhâââ Lovely, Dunk Festival, Bear Rock Festival, Fiesta du rock, Les Ardentes Club, Humo rock rally, etc. et partagé la scène avec des artistes aussi renommés que Zita Swoon, 31 Knots, 65 Days of Static, Thee Silver Mt Zion, Born Ruffians, Passe-Montagne, The Sedan Vault…
Premier (A little less more – 2010) et deuxième (Semantics – 2014) albums disponibles via Mandai.
Presse
Passionnant sur la longueur, 'Semantics' est un très bel album qui nous vaut de nombreux joyaux… (pf – Rif Raf – avril 2015)
L'équilibre tourbillonne entre la tangibilité des émotions solennelles et le relief virevoltant des interprétations… (Fred B. – Shoot me again)
Les liégeois de Frank Shinobi s'arment ici de promesses et adressent bien haut quelques certitudes, notamment celle d'incarner eux aussi une Belgique électrique, vivante, et fière de l'être (Matthieu C. – Mowno)
Semantics est une espèce de petite claque rock à répétition où les 10 morceaux sont autant de chemins de traverse sur lesquels il est bon se promener pour y être chahuté (David S. – RTBF)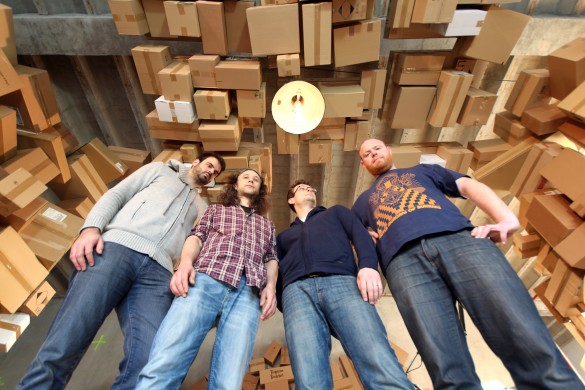 Code star Programme rock: 5095